iPhone
Irish Lottery iOS App
Get the Irish Lottery Results app for free from the App Store so you can see the latest winning numbers on your iPhone and iPad. Download it now to access the results straight away and uncover a host of extra features.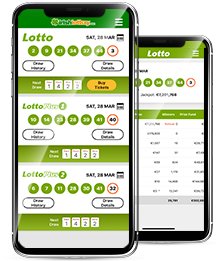 NEW Irish Lottery App
Scan the QR code to get the App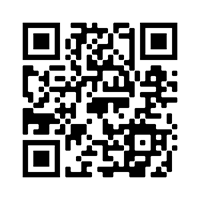 App Features
Included in the app are lots of helpful tools and features to make your lottery-playing experience easier and more enjoyable than ever. Take a look at the app's features below and go to the App Support page for more information about how to use them.
Latest Results
Results are updated immediately after every draw and appear automatically on the app's home page. You can see the winning numbers for all your favourite Irish Lottery games.
The featured lotteries include Lotto, Lotto Plus 1, Lotto Plus 2, Lotto Plus Raffle, EuroMillions, EuroMillions Plus, Daily Million, Daily Million Plus, Telly Bingo and Lotto 5-4-3-2-1. It's easy to set up which games you want to be displayed and the order in which you want them to show up.
As well as the winning numbers, you will also see details about each draw. Find out the size of the jackpot, the number of winners and all the prizes to be awarded.
Number Checker
The Checker does the hard work for you when you want to see whether you have won or not. It compares the numbers you have selected to the winning numbers drawn and lets you know if you are a winner. If you have won, it will also tell you how much.
You can carry out a quick check if you are just looking at a single set of numbers, or even add a ticket and save it to the app. This is perfect if you regularly play the same lines, or perhaps if you are part of a syndicate and have multiple entries to check.
Number Generator
Not sure which numbers to choose for the next draw? Let the Number Generator provide you with a random set of numbers, similar to a Quick Pick, that you can use in future draws. If you're not happy with the selection, just tap the 'Generate' button for another set of numbers!
You can save any selections you like, allowing you to check these numbers quickly if you decide to play them. Alternatively, view a history of all the numbers you have generated so that you can pick your favourite set. A handy countdown timer will show you how much time you have left until the next draw.
Notifications
The app allows you to choose which notifications you receive. For each of your selected games, you can set up the app to get various alerts. Find out when the latest results and prize breakdowns are available, or when the jackpot has reached a certain size or rolled over a specified number of times.
Get notified when a special event such as a EuroMillions Superdraw or a €1 million Lotto Plus Raffle has been announced and add a reminder to pick your numbers for your favourite games.
Historical Archives
The app does not just display the latest results for each game – it includes all the results. If you wish to view older draw results, you can do so with a comprehensive archive of winning numbers dating back years. Lotto started in 1988 and you can find results all the way from the start, including more information about prize payouts and winners. These archives are essential, whether you find a ticket a few months old or just want to analyse winning numbers from history.
Screenshots